Hi Loves!!!
I hope each and every one of you had a blessed weekend! I continue to find that my weekends are packed with fun things to do as well as those necessary chores that cannot be done during the week.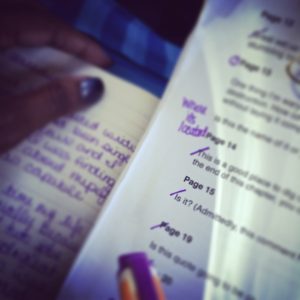 This weekend I had to get some stuff done. Things that I have been putting off like washing clothes. I absolutely hate having to pack up my dirty clothing and take them to the laundromat. I cannot wait to have a washer and dryer in my home. But I'm living that Cali apartment life. I try to see the good in everything. So going to the laundry provides me with about an hour and a half of dedicated time where I can kill two birds with one stone. While my clothes are washing and drying I sat outside in the car and worked on the edits for my upcoming book, The Diva Diaries. My editor will be proud as these edits are a tad bit late.
I also started doing some closet organization and overall home organization. I will tell you about it in the Decor post on Friday. But my closet and home are thanking me. My space is so small that being organized is a must. Purging unnecessary items is also a must. I've gone through my closet several times to pull out clothing that I do not wear anymore and each time I get a bit more discerning and willing to let go of a piece of clothing I love but just can't fit. Have you ever kept a item of clothing that you couldn't fit but kept telling yourself that you will shrink back down to that size? Well I do that more often than not and I can tell you its just easier to let it go. If you do get back to that size you can buy some new clothes as a treat for your hard work.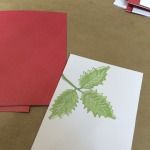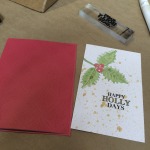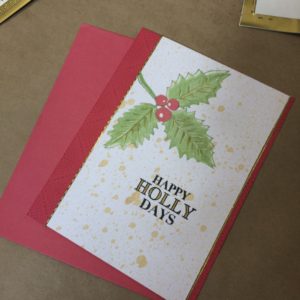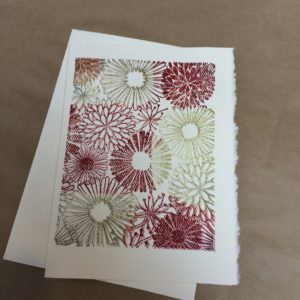 My favorite part of this weekend was attending the Rubber Stamp Workshop at Flax Art & Design in San Francisco. Yes, I'm a designer as well as a writer so I geek out on all things stationery and design. If you are not in SF and you do visit, you must stop by Flax San Francisco as well as Flax San Mateo. This was a hands on workshop with a great turn out. For three hours stationery/DIYers went from station to station learning about how they can enhance their creativity with the use of rubber stamps. One of my favorite stations was the one where I made the Happy Holly Days Christmas Card. The station was run by the Flax San Mateo owner's wife, Patty and she was so patient and walked me through step by step how to achieve the results I wanted. My second favorite station was the embossing station. It blew my mind how easy it was to emboss using stamps and pigment. Insert geek giggle here. I messed up my embossed card a bit because I didn't set the stamp down properly. There are so many nuances I learned about stamping. For instance, you are not supposed to ink the stamp by placing the stamp on the ink pad. You actually place the ink pad on the stamp. Mind. Blown.
Silhouette Cameo also had a representative there who was so very nice and I could tell that he was excited that I was excited about the product. I have a few stationery lovers who have the cameo so I knew that I was going to buy one this weekend at the workshop. The rep walked me through using the software and gave me a great overview of all the things that I wanted to do and could do using this product. Just in case you are wondering, the Silhouette Cameo is a machine that allows you to design and cut in one machine. You can use vinyl, paper and a great deal of other materials to achieve results you would normally have to get from a larger printing company. It was also a plus that as I was getting in my car (I was one of the last to leave the workshop) the rep handed me a few samples of the vinyl to go with the brand new machine I bought. SWEET!!! Plus the new cameo that I purchased came with a stamping kit as a gift. What a weekend!!!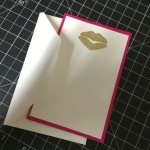 I couldn't wait to get home and try out some of the techniques that I learned. Here are a few examples of some cards that will be coming to our Shop later this week.
XOXOXO