My New 2016 Blog Planner Setup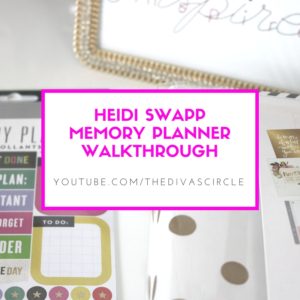 Can you believe it? It's March and I still had not found the perfect planner(s) for the year. I've been researching A5 planners and am looking for the perfect one to be my comprehensive planner for 2016. While watching a YouTube video by 2TinyTreasures on the Heidi Swapp Memory Planner, I fell in love with it and rushed to Michaels to pick it up. Michaels was having an AMAZING sale and I got it for just $17. Whoot! It is regularly about $34 so it was definitely a bargain. I ran home and immediately shot a video that I am excited to share with you. This is a walkthrough of the planner and my first thoughts about it.
Related Post: The Purposeful Planner Walkthrough
I can tell you the first thing I love about this planner is that the design makes me really happy. It is filled with floral and strips, gold and polka dots. It's also a planner that you don't have to do much decoration if you really don't want to and at the same time is a great canvas for those who do love decorating their planners. Like me!
I'll be shooting an April Plan With Me to show you how I set up my new Heidi Swapp Memory Planner. Be sure to thumbs up the video and subscribe so you don't miss the new videos!
Let me know if you have an Etsy shop that sells stickers and planner supplies for this planner. I'm looking for new brands to collaborate with for the April Plan With Me video. Leave a comment or email info@thedivainc.com.
Products Mentioned in the video:
Heidi Swapp Memory Planner
Heidi Swapp Memory Planner Sheer Floral Stickers
Heidi Swapp Memory Planner Word Jumble Stickers
Create 365 The Happy Planner Everyday Reminder Stickers
XOXOXO,
Crystal-Marie
Other Related Posts:
2016 One Year Workbook WalkThrough & Goal Talk
Make It Happen With The PowerSheets by Lara Casey!