Happy Sunday Loves!
We have so many exciting updates, product reviews and shows coming your way and we are kicking it off with this review of The Cultivated Heart Workbook by The Creative Porcupine.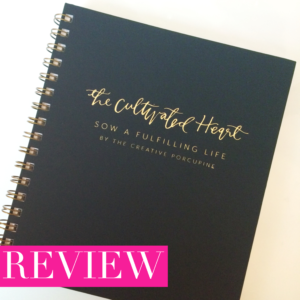 The Cultivated Heart Workbook was designed to help readers sow a fulfilling life. Its guided journal prompts propels readers into a journey of self discovery and change. This devotional is aimed at creating a heart that loves hard, is filled with joy and is devoid of fear.
There are so many reasons you should order a copy of this devotional but we have listed our top five:
Aimed at YOUR heart. So many times we hear a word or sermon and we think that it would be great for our friend to hear this or that. But this devotional and the words in it are for you. It's for us to work on our own garden. Prune what is necessary and water what is good. It's for us to take the time and work on ourselves. Only through working on our own hearts can we truly change someone else's because we are leading by example.
Guided Journaling. The Cultivated Heart is a more of a guided journal than a devotional. Each page is filled with prompts that make you think about love, joy, fear, seeds you plant and giving. It's a way to have honest and open communication with yourself about how and where you need to change your heart.
Simplicity. There is a short section in the book called Simplicity. (Admittedly we do think this one should be longer but none-the-less happy that it is included) In this section of the workbook, it talks about finances. What is your monthly income? What are your reoccurring monthly bills and payments? What items can you do without each month? (I.E. That gym membership that you pay for but are not using. :-)) What items can you not do without each month? We are big fans of budgeting here at The Diva Inc. Magazine. It's something that all of us should do but we don't necessarily do it the best. I mean those pair of shoes that we didn't need were on sale after all. But having a constant reminder to budget and remember what is a necessity verses a want is also something that has to develop from the heart.
Monthly Task Sheet. Arghh…not another task! But wait we actually want to do these. There is a tending section that ties everything that you have previously written about to everything you will write about. In this section there is one Task Sheet for each month of the year. With tasks like: Write a note to two people on page 11 or Buy Coffee for the person behind you one day or Get rid of one thing that causes negativity in your life. These are tasks that you actually want to do. And should.
Women Entrepreneurs Rock! Yes, we love to support women entrepreneurs. This was created by Amanda Knight (@thecreativeporcupine on IG) and we love that! We love when women see a need and seek to fill that gap. Not only do we get to support a fellow business woman but we also get the benefit of the content of this workbook, a changed heart and a renewed spirit. Win-Win!
Until Next Time,
XOXOXO,
Crystal-Marie