We let you know about Flywheel which is this AMAZING cycling class in our article titled, Flywheel Sports: Cycling to Fitness but today we are taking you a bit deeper with Flywheel Instructor Ryan Makely. Hesitating to take your first cycling class? Read more of what Ryan has to say and get inspired to fly.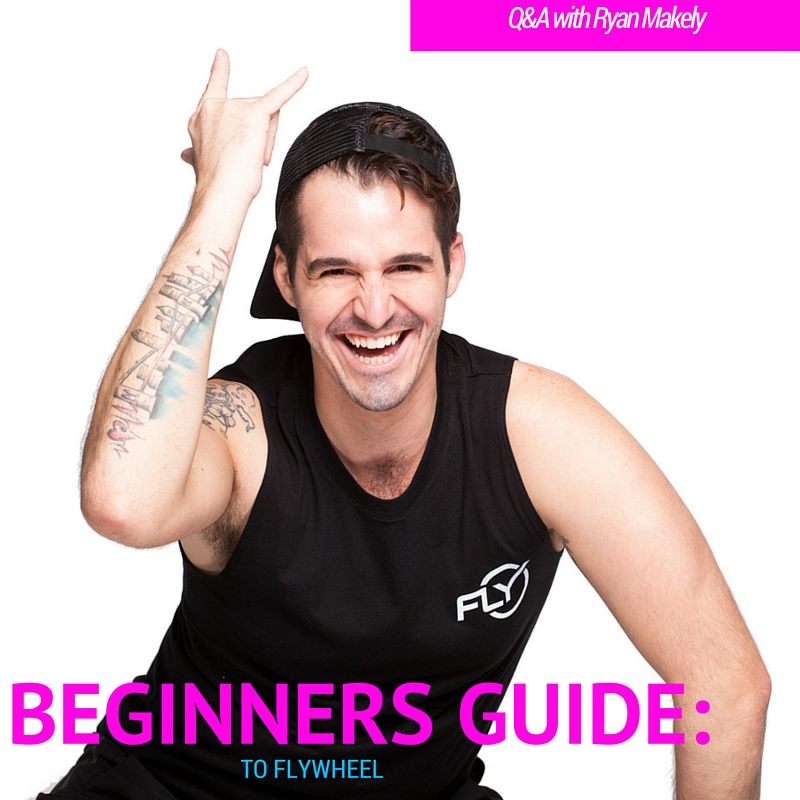 TDIM: How long have you been teaching Flywheel classes and what lead you to Flywheel?
RM: A former (NYC-based) struggling actor, I was waiting tables and felt unhappy with the direction my life was going. I joined the Flywheel team as a Club Coordinator at the Upper East Side (NYC) studio location. After seven months, I lost 50 pounds! I was feeling more confident than I had in months and the weight loss gave me the courage to audition to become an instructor…the rest is history!
TDIM: What is Flywheel's mission and how has it helped inspire you?
RM: Our notion of "Power Your Life" is all about feeling empowered and energized both in and out of the stadium. Flywheel is truly an immersive experience from the minute you walk through the doors – it allows you to escape and focus on yourself and your goals. It is much more than just a workout, it is a lifestyle. I try to live my life to the fullest every day and hope that my riders strive to do the same.
TDIM: What should first timers expect when coming to Flywheel?
RM: A very welcoming and comfortable environment. Our friendly staff is always on hand to tour the facility, explain the workout and help rider's set-up their bikes. Our studios feature unprecedented amenities including stadium seating (every seat is the best seat!), custom-made indoor cycling bikes, as well as complimentary towels and indoor cycling shoes for riders.
Our proprietary technology is there to enhance the experience and ensure that all riders – from beginners to advanced cyclists – get the most out of their workout. After class, riders are able to track their performance data (calories burned, total miles, average speed, etc.) on our website or iphone app.
And of course, expect to sweat! Our high-energy classes include intervals, climbs and descents to deliver a full-body workout, targeting glutes, quads, hamstrings and of course, the heart, giving the rider an intense cardio and fat burning workout. Each Flywheel class features a challenging upper body workout using weighted bars.
Additionally, expect a great playlist!  We carefully craft each and every playlist – you'll never hear the same one twice!
TDIM: Can you break down some of the vocabulary a beginner should know? (i.e. torq…)
RM; Every Flywheel bike is equipped with a small computer screen, or as we call it, the "tech pack" – this allows riders to view and adjust their RPM (speed) and Torq (resistance). Current is the measure of power you output at a given moment in time and Total keeps a running tally of your power throughout class, giving you a final power score at the end.
Each bike also communicates with the central electronic system in the studio, giving our riders the option to put their names up on our TorqBoards – large flat-screens at the front of the studio that display class leaders and allow for friendly competition, if you decide to opt in.
TDIM: What is the first class you recommend beginners to take?
RM: Our classes are truly for everyone! It's important to listen to your body and know your limit. However, I would recommend taking our signature FLY45 (45 minutes) before taking the FLY60 which is an hour. Our signature FLY45 – 45 minutes in length.
TDIM: After a beginner is ready to move to the next level, what class should they take next?
RM: Again, all of our classes are meant for everyone but once you feel comfortable with the signature ride, I highly encourage you to try our FLY60 or recently launched FlyBeats.
FlyBeats is a great compliment to our signature ride and perfect for those looking to boost endurance as it combines the precision of rhythm riding with our technology. Throughout the ride, the RPM is dictated entirely by the rhythm of the music, you never leave the beat!
TDIM: What type of pain (if any) should a beginner be prepared to feel after the class? 
RM: Since it's a full body workout you might be sore in unexpected places! It is key to ask the staff or instructor for help setting up your bike to avoid any potential injuries associated with bike set-up and poor form.
TDIM: Are there any pro tips on how to minimize the pain associated with getting used to cycling?
RM: There should be no pain – just that good kind of muscle soreness after an effective workout. As you take more classes your body will familiarize itself with the movements and you'll be able to turn up the Torq as well as increase your speed. What's better is you'll see your total power score increase – you can track yourself getting stronger! What is more empowering than that?
TDIM: What advice do you have for would-be cyclists who are a bit skeptical about taking their first class?
RM: Flywheel is the best 45 minutes of your day! It's a place where you can clip in, get sweaty and rock out.  It is the perfect escape. Also, your first class is free so you have nothing to lose – just come in with an open mind!
Find Ryan on Twitter, Instagram, FaceBook or SnapChat (Ryan.Makely). If you are living in the Bay Area stop into Flywheel Walnut Creek and take one of his awesome FlyBeats classes. Tell him The Diva Inc. Magazine sent you!