Hey Loves!
How was your weekend? Mine was very eventful and I am starting to struggle with the time to get errands done on the weekends.
This weekend I accompanied my sister on a road trip to Cal Poly to watch her Godson's first football game. I haven't been on a road trip since college so this was absolutely fun for me. We left early (well 10AM is early to me on a Saturday morning) and headed toward Cal Poly. Of course we had to stop at the Outlets on the way. 😉 Saks Off Fifth was having an amazing sale on their clearance items so I picked up a pair of shoes and a maxi dress.
I was going to work on the edits to my upcoming book on the drive. Don't tell my editor that I didn't. 🙂 My sister and I were too busy talking about things that happened to us in the past and the lessons we learned from them. It was a great way to spend the 3 hour drive.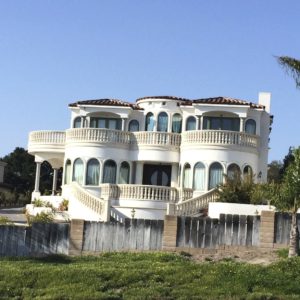 Before we arrived we had to pick up more family members in Pismo Beach. It was such a beautiful sight. The palm trees, sun and water looked amazing. I absolutely have to go back. Then I came across this amazing home! (pictured left) I had to snap a picture for my vision board. Something about seeing this just motivated me more to follow my dreams. What motivates you?
We arrived at the game and almost immediately I headed for the vendors. I'm not football savvy and most of the time I'm at a sports game I'm there for the hot dogs and nachos. 🙂
This time, my sister was determined to teach me a bit about football. She would explain the plays to me as they happened and I was chomping on my nachos. Most of it I retained. I think. LOL What really caught my eye about the game was the band. I come from a school that has the best band in the land. FAMU! So I really wanted to hear this school's band. I also love watching cheerleaders when I go to games. I always wanted to cheer and never did. 🙁 Sadly the cheerleaders stayed on the opposite side from where I was sitting the whole time. But the hot dogs and nachos were great!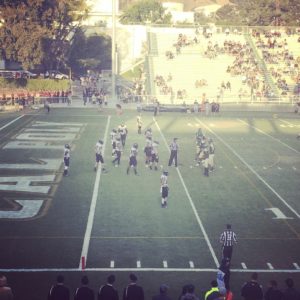 My sister didn't seem too frustrated with my inadequate football knowledge. Ha! So I guess she may invite me to ride with her to the next game. We will see.
And Cal Poly won!